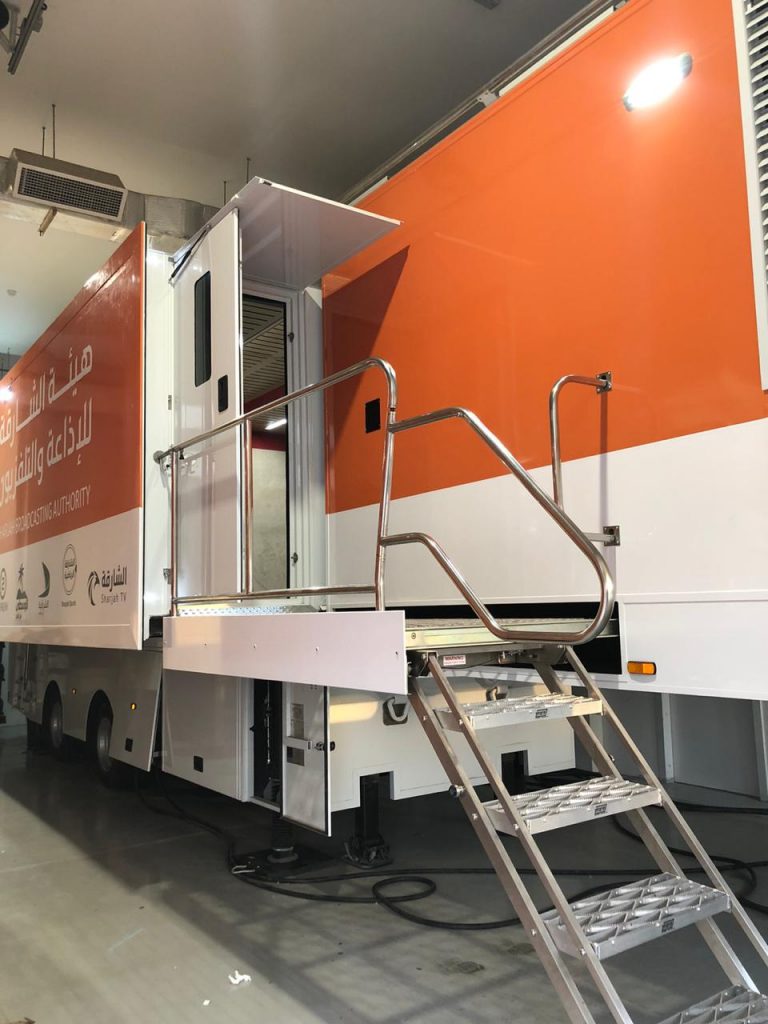 Systems integrators INC System Integrations and United Media Company worked together with Libya's Al Wataniyah to deliver a five-channel playout system last month. We take a look at the system
Libyan state broadcaster Al Wataniyah TV recently contracted Dubai-based INC System Integrations and local systems integrator United Media Company to create five automated playout channels along with an archive system for its facility. The state broadcaster of Libya government, wanted a system that would support both standard and high-definition formats.
The entire solution was fully assembled last month at INC's warehouse in Jebel Ali, Dubai, although shipment of the system to the broadcaster's main office in Tripoli has been deferred until the situation in the country stabilises. Adeeb Abed, General Manager of INC System Integrations, is proud of this deal as it is the company's first project in Libya.
"This is the first project we secured in Libya and we're exploring more such options to take our expertise outside the GCC to North Africa," says Abed.
"The system was entirely designed, installed and commissioned by us with assistance from other vendors involved in this project such as Pebble Beach Systems, Front Porch Digital, Isilon and Evertz, who joined us for the final commissioning."
At the heart of this system lies Pebble Beach Systems' new generation Marina automation solution, which was primarily chosen for its ability to support a full Unicode interface.
"It is presently the only product that has the full user interface in Arabic," says Azzam Salahat, Project Manager at INC.
"You can easily switch between languages as well. Marina has a fully localised interface that can support any language."
While Marina has been designed to function with any industry standard server, the client opted for Pebble Beach Systems' Dolphin integrated channel device, which includes built-in video players, video mixers, graphics, keyers and all of the elements required by a broadcaster to play out multiple channels.
Samir Isbaih, Regional Manager for the Middle East at Pebble Beach Systems, adds that this "software allows you to see all of the channels on one user interface or one monitor."
This means one operator can handle all of them. This is one of the reasons we have seen more and more broadcasters opting for our solutions. We recently sold 30 channels to a client."
For Al Wataniyah setup, Pebble Beach Systems provided the overall transmission solution, which includes ingest, fully redundant playout, media management, low-res browsing integration and archive control. As with all such systems, this setup is also fully redundant with no single point of failure.
"The setup is fairly traditional, with content ingested locally onto the Dolphin servers or directly onto the Isilon X400 nearline storage for editing after it has been quality checked. A high-res file and a low-res file are simultaneously created at this stage so they can be accessed on five FCP systems. The low-res suffices for segmentation, metadata entry, editing and so on," explains Salahat.
"As the nearline storage system has only a certain amount of capacity, the content is automatically transferred to the DIVA archiving system from Front Porch Digital by the Marina automation system, based on pre-defined rules. All the signals go through a Xenon video router from Evertz. After transmission, the content is recorded using Volicon compliance recorders, which can store data for 60 days," he adds.
When the content is to be played out or is scheduled for playout, Marina automatically checks both the nearline and archive systems for the content. If the content is not available, the automation system will flag the missing media to ensure that the operator is able to retrieve it manually if it is not on the system.
The project was planned three months ago and the installation was completed in two months. Last month, a team from Libya was at the INC warehouse in Dubai to train on the various systems.
INC has used its warehouses to build systems for broadcasters and companies that do not have an in-house facility, explains General Manager Abed.
"We have warehouses in Kuwait and Dubai, as well as Qatar. Our facilities are secured with CCTV and 24/7 patrolled security along with AC for executing and building systems. We have the capability at present to execute and manage three to six concurrent projects depending on the scale of the project at our Dubai warehouse facility."
A team of 10 from INC including a project manager, engineers and technicians were on-site to build the system. One of the big challenges of this project has been the indefinite wait to ship the system to Libya owing to the political turmoil in the country.
"This is why the project was entirely designed, executed and delivered in Dubai, with the option to shift the system to Libya for installation, testing and training," explains Abed.
But there are other challenges that can only be addressed once the system has been reassembled on site. For instance, the cables are cut based on estimated distances between locations.
Likewise, the team worked with an off-air signal from Televis because a dish has to be in place to check the feeds.
Abdul Moneim, CEO of United Media Company, the Libyan contractor who secured the project and worked with INC to ensure its completion, says this partnership was "successful for all parties".
"INC made a smooth transition from the design phase to implementation and project closure despite the many challenges in our country. They listened well to our client's needs and requirements and made sure to translate the requirements into reality with adequate training," adds Moneim.
More than eight engineers and 14 operators from Al Wataniyah TV and Libya's Ministry of Information worked with INC's technical and operations teams to bring the project to completion.